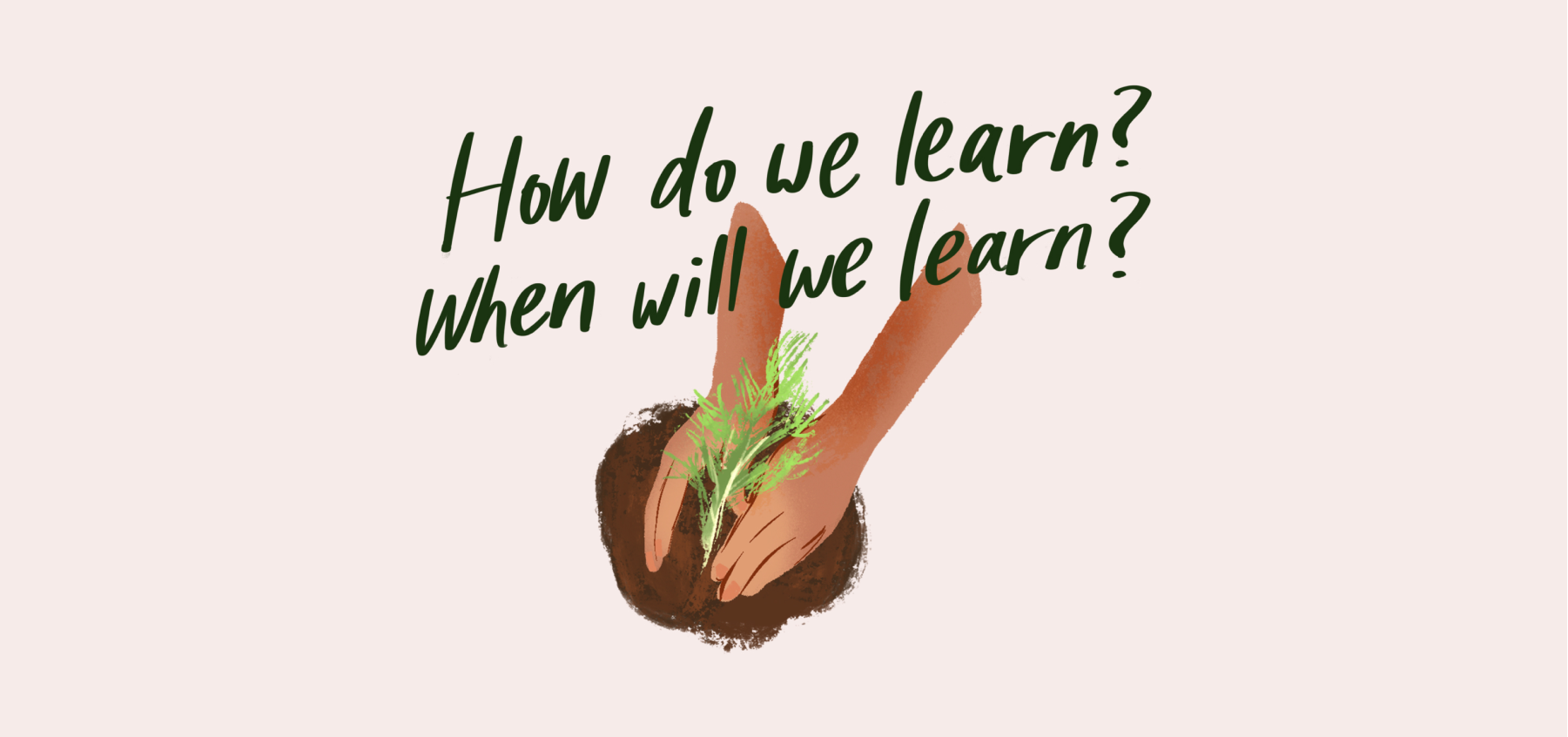 Recently, I travelled to Christmas Island to learn more about the Malay community there. I spoke to islanders whose ancestors hailed from all over the Malay archipelago—people whose culture, language, and traditions are an amalgamation of their diverse roots. I left feeling more informed, my insights both supplementing and contradicting the existing information about this remote island. (Think: red crabs and refugees)

When we were younger, knowledge acquisition was a more formal affair. We would pore through books, hoping to download information into our brains. The more desperate ones would sleep with books under their pillows the night before a big exam. Our friends, parents, and teachers taught us both small and big lessons—how to share our toys, how to write in cursive, how to do the right thing.

How can you not know?

Today, gaps in knowledge can have monumental consequences. While we can learn almost anything online, social media and algorithms may also harden our stances and limit our perspectives. When issues, or people, feel far away, we are less likely to know about them, empathise, or care enough to do something.

In our rare earth mining story, on-the-ground reporting by our collaborators, Myanmar Data Citizens, revealed the sobering truth that our reliance on smartphones is worsening health and humanitarian problems in Myanmar's Kachin State. Angel's microstory on the Southeast Asian gender pay gap shows that we have a long way to go to achieve parity—168 years in fact! In these cases, ethical consumption, and calling for more women leaders, are some steps towards making a change.

It takes conscious effort to learn, change, and care about things. The hard part about data storytelling is often not so much about finding the data, but finding the story. This connective tissue bridges the gap between curiosity and awareness, between caring and not caring. That's what guides the work we do: to no longer allow ourselves to say, we did not know.

What are some stories that have spurred you to action recently? Let us know at hello@kontinentalist.com.
In the aftermath of the 2021 coup in Myanmar, our team participated as data consultants in a fellowship run by the Earth Journalism Network. Together with journalists in the Mekong region, we produced over 15 data-driven stories investigating environmental issues. One of the fellows, Ko Maran, reported on the illegal rare earth mining happening in northern Myanmar. As an all-Burmese team, we took on this exciting opportunity to work with a compatriot journalist on an issue that affects our motherland.
At the beginning, we felt daunted by the technical jargon of the rare earth industry. We wanted our article to be as accessible as possible. But we had the collective urge to shine light on issues plaguing our country. We were also driven by the guilt that the devices we use have components that have been siphoned from our own land. All these motives fueled our team to study the topic well (scouring through 60+ articles!) and convey our learnings through our story.
While Ko Maran's original article focuses more on local activities and impacts, we believe that the issue can be made relevant to a wider audience. To guide us on rewriting the article, the wonderful Gurman Bhatia provided training for us to brainstorm ideas on how to structure our story. We first built a Pinterest mood board by compiling a list of at least 100 other visual references. Then we studied various story angles, identified parts we wanted to include in our own article, and developed its skeleton.
During the initial development phase, we studied various data stories from Kontinentalist (Jewels in Asia particularly) and SCMP infographics, especially on how complex information is made accessible through text and graphics. (So we were beyond thrilled when our pitch to Kontinentalist was accepted!)

The very first part of the process involved digesting all the information our researchers had gathered and pulling out the parts we would like to highlight. We didn't want our reader to be overloaded with text, so custom graphics were drafted for the parts where information would be better communicated visually. For this, our researchers and designer worked hand in hand to bounce ideas off of one another. Our designer then worked her magic to create the visual assets, and together with our developer, found the best way to implement them on the web through many iterations.

The best part of storymaking is seeing a rough hand sketch come to life into its final version. Through the process, we played around with ways to simplify the language and learned tips and tricks on making our custom graphics compatible with different screen sizes.
Another part of accessibility is the readability of the text. Having three writers posed the challenge of weaving the separate parts together into a cohesive piece. Under the editorial eye of Eva Constantaras, our writers spent hours debating the parts to cut and to further elaborate on.
We are a small, fully-remote team of data creatives, so we're big on tooling that helps us collaborate across our "stack", from research and design to writing and web development. We tried out (and ended up loving) ArchieML, which lets anyone on our team make changes to the webpage by simply editing a Google Doc. When our designer crafted a beautiful annotated diagram showing just how little rare earth is recycled, ai2html allowed us to port that right over to the web to make it visually interactive. Last but not least, the Pudding's starter template allowed us to quickly scaffold our project in vanilla Javascript and get our ideas off the ground.

As the world moves on and the news cycle spins, Myanmar has shifted to the global periphery. Yet, the consequences of sidelined conflict are still being felt today. Just over the last weekend, in the same state where rare earth mining occurs, the military regime launched air strikes at a concert, killing over 60. Growing up under an authoritarian regime, we had all been fed fabricated truths and propaganda. For us as Myanmar Data Citizens, it feels important, now more than ever, to tell untold stories that are grounded in truth.
Special thanks to Ko Maran for providing us the raw materials for this article and to the Kontinentalist team for refining and polishing the final product.
A few months ago, we partnered with Oxfam to illustrate the deeply entrenched inequalities that have been exacerbated by the ongoing pandemic. Read on to find out what can be done to achieve an inclusive, green, and equitable Asia.
Tech is widely regarded as a male-dominated industry—a notion that female changemakers and visionaries have long sought to debunk. Read more about the distinct struggles women face while trying to break into this boys' club in this story.
"Since I became a journalist, I started seeing things as webs—in the sense that everything is connected. Sometimes, nothing happens immediately, but rather five years down the road. [...] I find it very energising to discover connections or resonances. "
The Iranian Women of Graphic Design created an open-source Google Drive of protest art in light of ongoing #WomenLifeFreedom demonstrations. Circulating these helps empower those on the ground and inform others around the world during a time of heightened state surveillance. Check out and contribute to their database here.
Four years ago, Duolingo released a documentary on Syrian refugees and how the process of language learning has helped them establish a sense of identity in foreign lands. Yet another reason to love the internet's favourite owl. Watch the video here.
After more than doubling their Kickstarter campaign goal, the video game Coral Island, created by new Indonesian developer Stairway Games, was launched in Early Access on 11 October. It's a reimagining of farm sim games, which centres around Indonesian culture, features diverse characters, and deals with local environmental issues.
In an effort to better understand gender dysphoria, TransBefrienders (an organisation which provides peer support services for transgender youths in Singapore) is holding an exhibition entitled Dysphoria/Euphoria. Held at Projector X: Picturehouse from 11 to 20 November, it will showcase work by eight trans and gender-diverse local artists.
Indigenous wisdom:
bridging the gap between humans and the earth
At a tree planting site in Terai, Nepal, the local communities rely on their plantation for domestic needs such as fuelwood, livestock fodder, and medicinal and edible plants. Aside from self sustainability, agriculture provides stable work and income to the community. It empowers the locals and indigenous people to take guardianship of their land and resources. This act of transferring and applying wisdom of the indigenous to safeguarding earth is much needed in times of worsening climate change.
Comments
Subscribe to receive our free monthly newsletter.