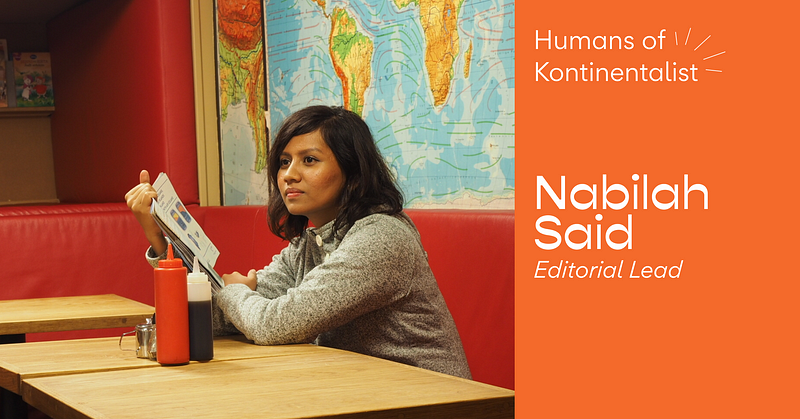 Humans of Kontinentalist: Nabilah Said
Nabilah joined Kontinentalist in June 2022 as our new Editorial Lead. Over the past few months, she's written a micro-story on Mystical…
Nabilah joined Kontinentalist in June 2022 as our new Editorial Lead. Over the past few months, she's written a micro-story on Mystical Spaces in Asia, contributed to research for our Queer Cinema in Southeast Asia story as well as edited a wide variety of content — like our HDB story!
We caught up with Nabilah to talk about her first few months on the job, her writing interests as well as the ever-evolving world of TikTok.
Hi, Nabilah! Can you tell me more about your role at Kontinentalist and what you do?
I'm the Editorial Lead at Kontinentalist, which means I essentially look after stories, making sure we're telling a story impactfully and in a sensitive way. Apart from stories, I also look at how Kontinentalist can present itself through its content, social media channels, and client projects.    
You joined the team very recently; how have the first few months been as Editorial Lead?
It's been really great. There are some things that are familiar to me because I've been in an editorial role before. It's nice to feel like my skills are valued in that respect. But there's a whole other part of the job that's so new, and makes me feel like a noob. It's been almost three months and it took all that time to get used to data visualisation and be more comfortable when talking about the company and what we do. I'm in this weird position where there are certain things that I'm used to and can do, and there are a lot of things that I am not good at doing yet. But I'm learning! My colleagues are so good at what they do that I'm a fangirl of them! But at the same time, I also have to lead in certain aspects. That's been interesting to juggle.
I previously came from a smaller company. Now there are 12 to 16 people, it's a bigger team. It's nice to feel that people are with you at different parts of the process. Because when you're in a small company, you can also sometimes feel like, oh my god, it's quite daunting because you kind of have to do everything. It gets very tiring. But the content creation process at Kontinentalist is designed to have multiple stages, with different people supporting you at different times. You feel supported throughout. I like that!
Subscribe to receive our free monthly newsletter.