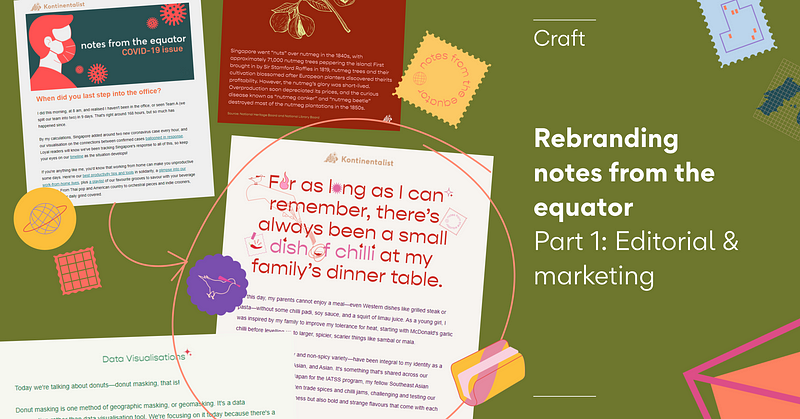 Rebranding notes from the equator (Part 1: Editorial and marketing)
Hello! We (Bella and Griselda) will be talking about the rebranding of our newsletter, notes from the equator, in two parts here in this…
Hello! We (Bella and Griselda) will be talking about the rebranding of our newsletter, notes from the equator, in two parts here in this post.
We've also got a whole other post on redesigning the newsletter's brand new aesthetic by Munirah, our visual designer, coming soon. For now, here's Bella's perspective on our newsletter's editorial content — do feel free to skip ahead to the marketing section, if you want!

Besides being a writer, I'm also in charge of notes from the equator. It's my baby, actually. Conceived on 31 July, 2019, the delivery was a speedy and smooth one. Here's a reenactment of it:
Pei Ying (our boss): Bella, we need a company newsletter to inform people about our new stories.
Bella (a writer who happens to be around): Okay. Here's the structure, and can we call it notes from the equator… and NEVER capitalise it?
Pei Ying: … Sure.
And that worked out, well, okay.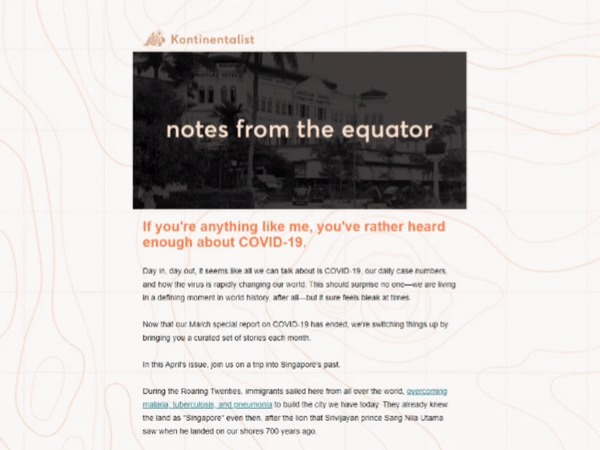 We did what we set out to do: alert our growing audience about our three new stories per month, along with other tidbits like our data visualization write-up and, sometimes, features on writers and their motivations for pitching a story.
But as our audience grew, we knew we had to change it up and offer more. We didn't want to do yet another newsletter with various calls to action, blasting our services to a bunch of eyeballs.
The newest iteration of notes from the equator is our attempt at bringing you something different. We want it to live up to its name, so that receiving the newsletter feels like receiving a postcard from a penpal in Singapore.
Subscribe to receive our free monthly newsletter.