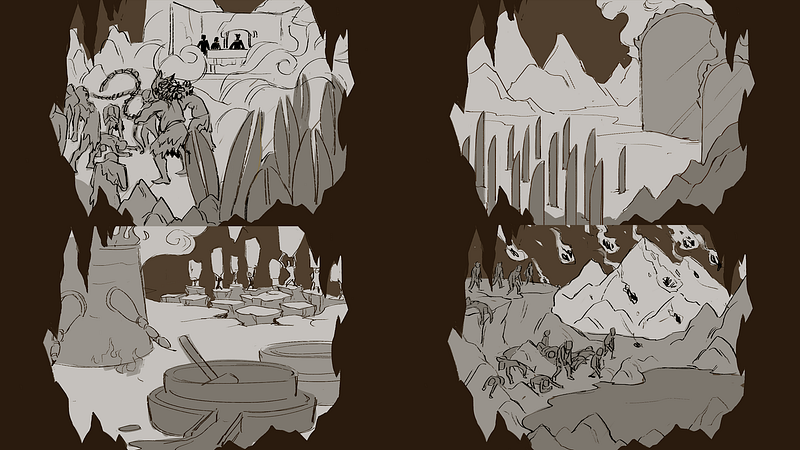 Part III: Everything visual about the eighteen levels of hell
A few weeks ago, the Kontinentalist team published our narrative-based game, Hell's Apprentice, based on the Buddhist-Taoist folklore of…
A few weeks ago, the Kontinentalist team published its narrative-based game, Hell's Apprentice, based on the Buddhist-Taoist folklore of the eighteen levels of hell. This was our first game development attempt, involving different stages of development compared to our usual stories and tools we hadn't typically used, and we learned a lot during the process. In this post, I'll talk about everything visual, from concept art to user interface design!
Conceptualisation
First, game design and flow
All parts of a game are closely linked. Before we even started to draw anything, we needed to know as a team what the story and game needed! To kickstart the art process, we had to flesh out a few things together: the game genre and mechanics, the game's main components, the setting, and the atmosphere.
After some long discussions, we came up with this list:
The game will be a short visual novel that focuses on exploration and investigation.
The main components of the game are the map, various hell locations, and criminal profiles.
The game will be set in the eighteen levels of hell. Most of the setting should be mythical but shouldn't look too old and rigid, as there are modern elements like casual office banter and text messages as clues.
The atmosphere should be dark and serious due to the subject matter, but not horror.
You can read more about the initial story and mechanics development in Bella's piece.
Inspirations and references
Once these were determined, it was time for a very important first step: gathering references. From her initial research, Bella gave us a collection of hell depictions from Baidu, China's Wikipedia. I kept to the final concept artworks as faithfully as possible, aside from compositional and style changes.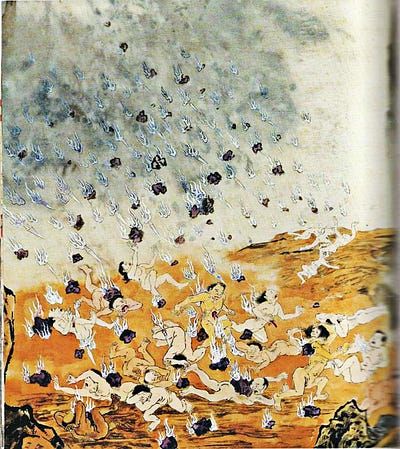 Subscribe to receive our free monthly newsletter.