Inktober Journal
As Inktober 2019 draws to a close, our resident animator Griselda walks us through her #Inktober illustrations and the quirky stories that…
As Inktober 2019 draws to a close, our resident animator Griselda walks us through her #Inktober illustrations and the quirky stories that inspire them.
Daily routines are different for everyone. Some people have 9 to 6 jobs and look forward to dining with their children. Others have twenty stray cats that they care for like children.
I'm an introvert who can barely hold a conversation most of the time, but sometimes I get to meet taxi drivers and other strangers who are simply easy to talk to. After a while, I realised I was learning a lot about the different sides of Singapore that even locals were surprised to hear about. Instead of keeping these tidbits to myself, I took Inktober as an opportunity to practice my drawing, internalise, and share these experiences.
Later on, I approached Bella, our Medium editor, who have encouraged us to pitch Medium stories that are skills-related, for fun, or dedicated to exploring Asian voices (which is Kontinentalist's mission). I figured this fulfils the last two points, so here we are!
---
The following illustrations are a mixture of scenes which I've actually experienced, and imagined based on conversations.
"These cats are like my children, you know."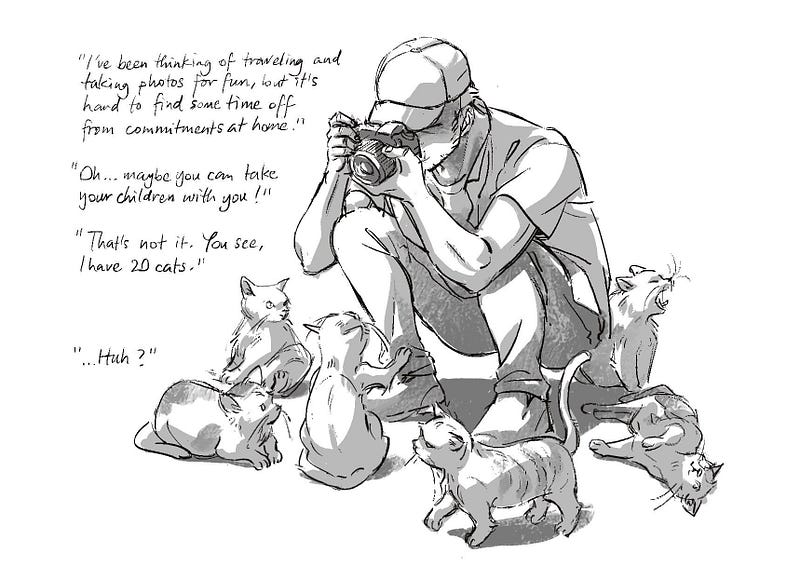 "I've been thinking of traveling and taking photos for fun, but it's hard to find some time off from commitments at home."
"Oh…maybe you can take your children with you!"
"That's not it. You see, I have twenty cats."
"…Huh?"
One of the conversations which pushed me to do this series of drawings was with a Grab driver who moonlights as a freelance wedding photographer and a caretaker of twenty cats. He felt unfulfilled at his current job, and wanted to travel and try out other kinds of photography, but couldn't bear to leave his cats for more than a day.
Subscribe to receive our free monthly newsletter.