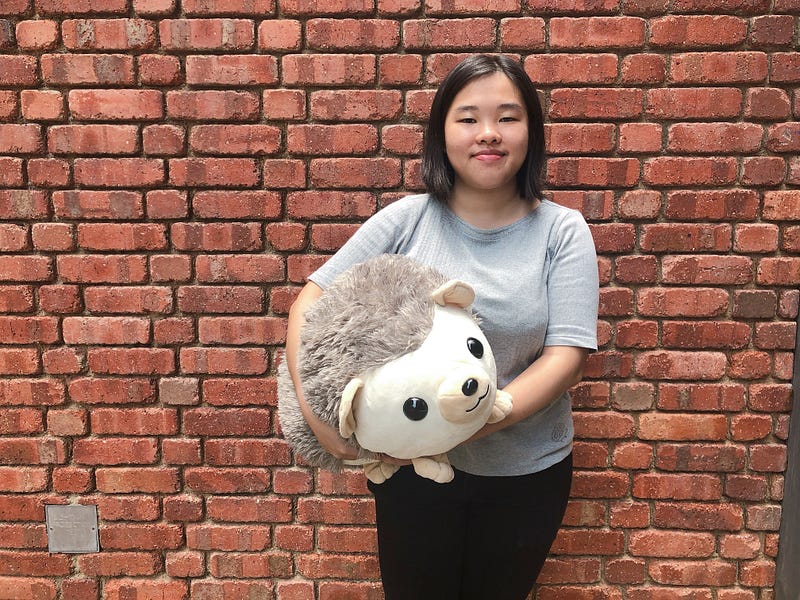 Humans of Kontinentalist: Griselda Gabriele
Hi Griselda, when did you join Kontinentalist?
Hi Griselda, when did you join Kontinentalist?
I started on the 1st of November 2018.
How has it been so far?
It is good. It feels unconventional here (in a good way). I have worked in a start-up before. But the people here are very open and blunt about a lot of things. Like Dylan said "we talk crap all the time, but we get work done". It's fun here! But at the same time, it doesn't feel messy. There is clear progress being made.
The environment is different from what I am used to. There are a lot of people from different backgrounds and I feel that I am learning a lot!
Tell us about your role!
I am a graphic and multimedia designer. I work in marketing with Dewi and work on illustrations and animations for marketing purposes but in general I do a lot of animations.
What do you like about Kontinentalist or what is your impression so far?
Kontinentalist tells different kinds of stories. I like that its perspective is from Asia, something that I don't often see. It brings a very different view on things that have for a long time been told from a very Western-centric perspective. I really like the map format because of how it visualises data. I think data visualisation is good and we have so much data in the world, we need to make sense of it better and show it in a way that is easy to understand. Konti explores so many different formats and ways of showing data to tell stories.
For example, Konti's BRI story. I did know about the BRI in the past but there was so much information, so many countries involved and so much to understand so I never really made sense of it. But when I read Konti's BRI story, it was really easy to understand.
Who or what is your design inspiration?
It changes from time to time, there are so many inspirations out there, but lately I have been inspired by Noma Bar. He does illustrations that have double meanings, he uses negative space in an interesting way for example he did an illustration of a lion but the mouth of the lion is a silhouette of another animal. He uses very simple styles and elements to tell multiple stories in one.
Other than that, I recently watched Spiderverse and it inspires me in a lot of ways when it comes to art direction and how they break a lot of animation conventions in that they combine comics and animation, it's like nothing I have ever seen before!
What got you into animation and illustration to the point that you studied it and it is now your career?
Since young I have always liked drawing and I read a lot of books and comics, and watched a lot of movies and I like stories. At the same time, I am also a little more introverted, and so drawing comes more naturally to me to tell stories. I did explore different types of art and storytelling like writing, cinematography and even acting! But in the end I felt that animation was the field that I really wanted to get into.
When you doodle, what do you usually find yourself doodling?
I draw a bunch of different things, but usually when I doodle I think of a certain story or specific emotions. For example if I have just watched a movie and I am struck emotionally by a particular scene, I end up drawing something along those lines. So for me the emotions or the story influence what I doodle.
I prefer to draw environments over people, perhaps because both my parents used to be architects so I was influenced by their drawings. I think environments tell a lot about the humanity inside that environment. There is so much that goes into drawing. It's not just drawing, you have to know so many intricacies complexities!!
One of my grandfather's was a film maker and my other grandfather designed aquariums so I think my family in general is quite artistic.
What are your hobbies?
Definitely drawing. I don't do it as much as I used to but I do draw in my free time. I like to play Dungeons & Dragons and sometimes I go on random trips to find food. I like to try new food.
What is your favourite food?
Prawns — anything with prawns!
Favourite drink?
[Thinks for a very long time]
Oh! Es kopyor.
[Interviewer: Please explain]
Kopyor is a kind of mutant coconut. They are technically defects but they are special, they are fatty and sweet.
How long have you been living in Singapore?
5 years. I studied here and then stayed on here to work.
Do you get homesick?
Not too much. I am quite used to travelling, so I am quite comfortable being away from home.
What is your favourite place that you have travelled to so far?
Japan! I went to Kyoto. I like it there because it is very chill. In the past, when my family travelled, we used to always go on tour packages but for Kyoto we decided to venture there on our own and we had very interesting experiences. For example, we missed the Shinkansen and we had to stay in a love hotel! It was very memorable.
Is there a particular place you would like to travel to?
Not really. I like travelling and would be happy to travel anywhere. But I do want to go to a hedgehog cafe!! There is one in Japan, and one in Bangkok. I would like to go to the one in Bangkok.
What is it about hedgehogs that you like?
I honestly don't know what it is that I like. They are just so cute! A lot of people worry about thorns but hedgehogs look so harmless and they are so cute and round! It's just really cute! There is nothing meaningful — I just think they're really cute!!
I don't remember how it started but I think it was when I came to Singapore. This season, the Zoo is having a hedgehog feeding session and I hope to go this week!
If you could change one thing about the office, what would it be?
I would like to make alterations to the roof! I really like the roof. I would like to make bridges connecting the roof to other areas so that I can walk around above ground, think Gardens by the Bay vertical gardens. The bridges would go to Liang Court and around the entire River Valley neighbourhood. It would be much more relaxing and it would be a nice space to walk on.
If there was a fire in the office and you could save only one person or thing, who or what would it be?
I would save my computer because all my work is there. I think the people can save themselves and I wouldn't want to be responsible to save just one person.
What is your idea of an Ideal team bonding?
I think playing board games that require you to go against each other would be ideal, as I think that kind of game brings out different sides of people!
Do you have a favourite place to draw?
I like places that have people around me but aren't too busy. I do have one favourite, my home in Indonesia is next to a harbour and I like to draw ships, the market around it, people interacting and working — it's a messy place but it's such an interesting mess. I like to draw at places where I can observe people and interesting scenes, and places of work. I like mess and how people go about their daily activities within this mess.
Comments
Subscribe to receive our free monthly newsletter.