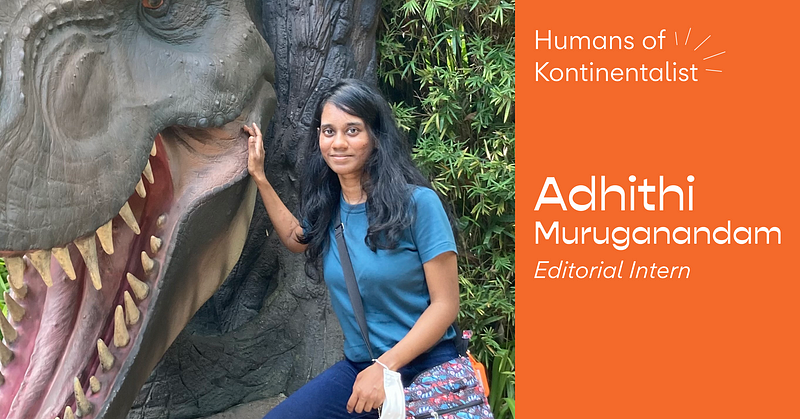 Humans of Kontinentalist: Adhithi.M
Adhithi interned with us over six months, contributing diligently and invaluably to many projects, including: stories about Deepavali and…
Adhithi interned with us over six months, contributing diligently and invaluably to many projects, including: stories about Deepavali and Shophouses in Singapore; many interviews with data viz practitioners from all over Asia; and helping to launch our first workshop about data storytelling — and more! Ever curious and self-driven, we're so excited to see what she ends up doing next, and how her data story about Asia's board games turns out!
How did you find Kontinentalist?
I attended a competition held two years ago where Bella, a fellow Konti writer, had submitted an entry themed around Valentine's Day and love. I found out about it through the Data Viz SG meetup. This was around the time I had started reading some of those cool data viz pieces organisations like New York Times put out, and began to wonder about all these cool data viz stuff and how to incorporate them into telling stories. It was a really pleasant surprise to know that there was a Singapore-based company which was also doing data storytelling.
What about data viz and data storytelling specifically appeals to you?
I got really interested in the role of the media and how it contributes to misinformation. I started to see how, if you incorporate data and have data visualisations in articles, it could lead to better flow and readability, and reach out to people a bit better. Journalism was pretty significant a couple of decades ago, but it has become limited because of social media. Social media kind of eliminated the need for mainstream news organisations to be the main reporters, but it also introduced this whole world of misinformation. So I thought data storytelling and visualisations could be an effective way to reach out to people with reliable facts, and to do so instantaneously — which helps people who find it hard to read long pieces.
Subscribe to receive our free monthly newsletter.