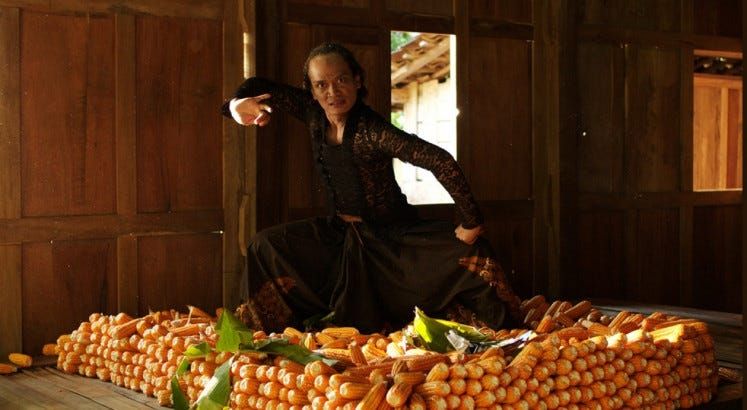 Faces of Indonesia's LGBT people — seen through four films
In 2019, Garin Nugroho made waves with Kucumbu Tubuh Indahku, a coming-of-age film that portrays a boy's exploration of his gender and…
In 2019, Garin Nugroho made waves with Kucumbu Tubuh Indahku, an Indonesian coming-of-age film that portrays a boy's exploration of his gender and sexuality. Despite its international acclaim, it received a lot of backlash locally. Led mostly by radical religious conservative groups, two petitions were created to stop the film's distribution over fears of promoting LGBT themes, and it was banned in seven cities. In an interview, Nugroho said that this has been a good litmus test of maturity for the mainstream Indonesian audience—and they had failed.
It hasn't always been this way. A diverse country with around 600 distinct ethnic groups, Indonesia is no stranger to cultures and beliefs that accept LGBT elements while at the same time not quite fitting into modern labels. One such example is the Bugis people's five-gender system, including the androgynous shaman Bissu, whom we discussed in our story on transgender people in Asia. Kucumbu Tubuh Indahku shows a few more examples such as Lengger Lanang, a traditional dance from central Java in which men perform as women, and the relationship between two players of Reog Ponorogo performance, warok (local village hero or strongman who plays the lead role) and gemblak (a boy who serves the warok sexually and domestically during his period of abstinence from sex with women).
It should come as no surprise, then, that Indonesian films' portrayals of LGBT themes are as diverse as the country's histories and cultures. Looking at some of these films can give us a picture of how Indonesia has evolved in its understanding of the LGBT community—and the unstable position this community holds.
Suharto's authoritarian New Order was known for its repression of any form of challenge against the regime's narrative; these included artistic expression and Islamic political forces, among other things. His resignation in 1998 brought in a reformation period, marked by a rise in films that explore previously taboo political topics and bring nuanced portrayals of minority groups.
Arisan! (2003), dir. Nia Dinata
Also called The Gathering in English, Arisan! is most well-known for being the first Indonesian film to have a gay main character and an on-screen kiss between two men. Its protagonist Sakti starts out struggling to come to terms with his homosexuality, but he eventually builds a romantic relationship with a fellow gay man, Nino, and finds that his friends and family accept him for who he is. You may remember this film from one of our older stories about our favourite Asian films.
Subscribe to receive our free monthly newsletter.