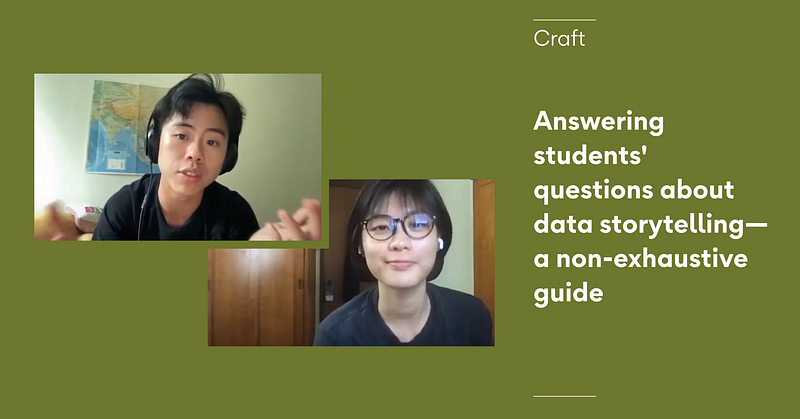 Answering students' questions about data storytelling—an inexhaustive guide
Last month, Mick and I had the great fortune of conducting office hours for students from the University of Applied Sciences Amsterdam…
Answering students' questions about data storytelling—a non-exhaustive guide
Last month, Mick and I had the great fortune to conduct office hours for students from the University of Applied Sciences Amsterdam. International students from different backgrounds learn data literacy—visualisation, ethics, and data humanism—in this cross-cultural data literacy course.
I'm very envious that such a program exists. Luckily for anyone feeling a similar sense of FOMO, the school is generous in sharing resources and guest talks from data vis practitioners. Go check them out! :)
Back to the office hours. We had 30 minute to one-hour sessions with around eight students, in which they briefed us on the scope of their projects and specified the areas they needed help with.
It was really fun for me to play an advisory role because I'm usually them, figuring out the scope and finding the data as a data storyteller. So I felt it in my bones when they shared their struggles, which in turn motivated me to write this article.
Even if the following advice contains things you already know, I hope that at the very least this article makes you feel seen. (⊃。•́‿•̀。)⊃
Questions about data stories (from students!)
Q: I have tons of data, but how do I make it into a story?
A: We live at a time when we have access to tons of data. It's kind of a happy problem to have, right? It's much easier to reduce the scope of an existing dataset than it is to create your own data, which can be tedious. That is, until you fall into a rabbit hole and find yourself adjusting your scope to accommodate more and more angles. Then you take a step back and realise that you're no longer telling a story, but collecting datasets.
So how do you get out of this funk?
Forget about your folder of datasets and go back to the basics. Get a blank piece of paper (or whatever medium of your choice), and answer this question in plain words:
Subscribe to receive our free monthly newsletter.